"I'm sorry I just didn't feel the Romantic Spark"

This is what I was told just recently after asking if I could call someone I swiped on from an online dating site. I thought, let's see if we can hold a conversation before we meet so make sure we don't waste time at an awkward dinner or coffee meeting. If anything I wonder why more people don't want to do this! It is a great way to weed out the weirdos! But that aside, we talked for about 20 minutes as she got ready to go to a class and was running around her house getting dressed and seemed kinda stressed. No biggie, nothing big was being talked about, it was just a general, "Hello, I am real, you are real, nice to hear your voice with inflection!"
The next day I texted to see if they wanted to grab a coffee and I got the response above.
I sat there for a moment, kinda dumbfounded. Is this how quickly people expect to find romance? To feel the "connection" to another human being that is multi faceted? Someone you never met, never smelled, never looked into their eyes? Never shared physical space with?
I was talking to my trainer about it this morning and I said, it is kind of like if someone came in for a session, worked out hard, and at the end of the session looked in the mirror and told him, "Yeah, I don't see any results, this isn't working."
What the fuck has happened to us as human beings? Are we that addicted to the dopamine of the instant "click", the "excitement of new people that if we don't have the nearly 1 in a million experience of "love at first sight" (yes I was on the pilot for that show), that knowing we can keep swiping until we get our fix for it, we can just toss away the idea of anything that remotely resembles "getting to know someone" and "learning to love them for who they are, what they believe in, how we get along, and in person interactions experiences we have together"?
Shit if you want fireworks that badly at the first meeting, if you have iMessage I can send them right away!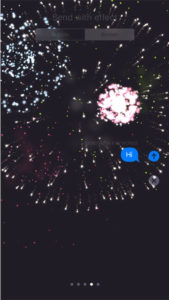 Now there is the one obvious answer to all of this which is that people are just not strong enough to tell you the truth as to why they are not interested in you. So they make up a reason that they feel is the least intrusive. But seriously, in this case it's OK to tell the truth. It is OK to answer a text with an unpopular answer. It is OK to tell someone what is on your mind. It is OK to be uncomfortable doing it as well! (I have talked about how we really need to start "getting hurt" again) So stop with the "I didn't feel a romantic click" lines after texting someone for 10 seconds and just say "I don't think we are compatible for X reason". 99/100 times it will give everyone closure.

Mind you there are the crazies, but they don't define the majority of us.

So please, just be honest. Shit I have gone on a date where I told the person when I met them in person, "I am sorry you don't look like your photos and I feel a bit deceived, so I am going to head out, but thank you for coming to meet me regardless. Good luck!"
But to me I think it is a deeper problem. An addiction to the feeling of "new romance" the addiction to the massive exposure to so many people and the excitement of puppy love, that what is happening is people are no longer aware of how to actually build a foundation for a relationship. How love comes in time. How you can grow your love based on experiences and interactions together. How love doesn't always have a set path or reason. How it isn't a rush to the finish but a step at a time, enjoying the moments you get to spend with another human and allow them into your life, and to share yours with them. The love that comes from truly "falling in love" not pretending we are legos and "clicking" it all together.
So again, I am taken aback by the way we as a society are assimilating to what these dating sites tell us to do. How we should feel. How we should interact. Taking out more and more of the personalizations and adding more emojis, quick responses, canned responses, and cheesy "List your fav color for match percentages". These dating sites have a business model. And if you actually form a long lasting relationship, guess which site doesn't get paid? Think about that for a second. Now take those extra seconds and give people a chance with the extra time. Don't take excitement and enthusiasm as bad signs, but use them to grow. Stop swiping just for a minute, figure out if we can create some moments together, and inspire each other! Then let that go wherever it may go, even if it ends up not working. One must be open to conversation and not afraid of debate as if it is confrontation. Opening yourself up for rejection to see if you truly understand the complexities of another person.
Hardest part though is this all starts with you. So yes perhaps there was another reason that text was sent, but from my experience, it is no longer the logical answer, but the illogical endorphin rush needed to make the tedious task of swiping and telling your favorite color over and over entertaining and feeling worthwhile, but at the expense of true connections.