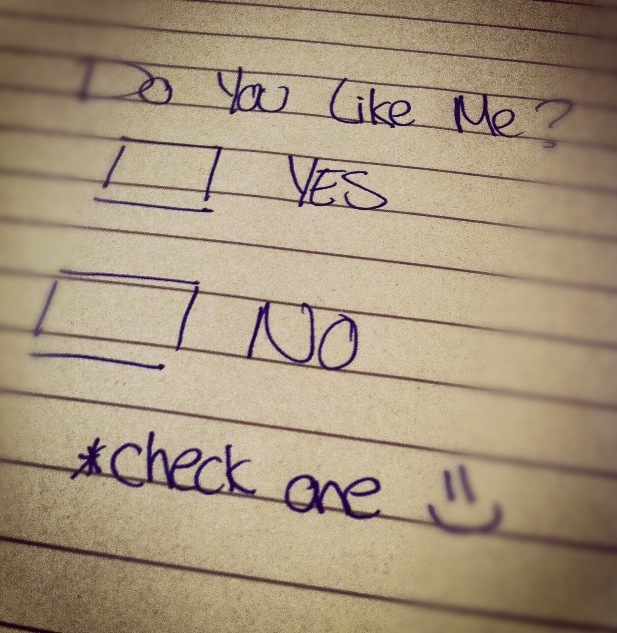 We need to stop treating our potential significant others so carefully, formulaically, differently.

Ya know that crude you, you show to your best friend? Or that goofy side to your family? Or that weird crazy side to your cat or dog?

THAT is what you should be showing to someone you want to get to know. The small moments of you. The moments that when you add them all up over time, make who you are unique and personable. Choosing the perfect text, or trying to come up with the best jokes, or getting your outfit just right has zero context in the grand scheme of the time it takes to get to know someone. It is sterile and boring.

Time, this crazy little thing we all have to endure, is the only way to really know someone, so why waste it? One day at a time you learn who someone is, and if you are enjoying today, you should look forward to tomorrow as well, and then when you have a day you don't enjoy, you ask: Why? And if the "why" is more important than the time spent, you know it won't work, but if the "why" was just a bump in the road of getting to know another human's complexities, you go to the next day more informed and stronger together.

I mean sure there is a level of "lovey" or "puppy dog" personality that goes with a new relationship but that should be in addition to you. Not a subtraction.

Why do we need to facade for x amount a "societal determined acceptable standard" days or months or even years or titles; "Well you aren't my boyfriend" "Well you are a stranger" "Well all we have done is texted". No shit, we are meeting in a new inorganic yet oddly similar to real life way of meeting with online dating: "See cute person, say hello". We are missing the 3D aspects of it and the sensations of real life, yes, always tempted by the next swipe, but it is still very similar if you take it to the core of what it is.

My wish is that people would treat me like we've known each other for years, even if we just exchanged a "hello", but with a strong enough sense of self to be careful and protective of their own experiences, sharing with me as we go so I can know what you experienced the last X amount of years of your life. I am not asking you to be flapping in the wind vulnerable, I expect you to be somewhat guarded, but also open to yourself and others, so it isn't a struggle but a dance getting to know one another.

But what I find is people are just less communicative. Less themselves. Less goofy. Less real. More closed off. More guarded.

Do you call your friends on the phone? Or FaceTime them silly shit? Why can't the potential significant other you just met see that. It's always a game. But it isn't a fun game for one party. Time doesn't go slower the more you hide. So stop wasting it. Open yourself up to rejection. If you swiped the face you thought was pretty, awesome! Nothing wrong with that, but the face only gets the conversation started, because if the conversation sucks, the face means nothing. So start a conversation! A real conversation.
Instead of embracing it as the main form of dating now, we are wasting our time making excuses about how it is horrible and inorganic. We use it as a social experiment for an ego boost or we blame our failures on it because of it.We make up personas. And instead of choosing how it works and how we use it, we just make it an uncomfortable place to be.

We are wasting our time. We are wasting others time. We aren't ourselves and therefore we aren't truly allowing others in. What happens if the other person likes this fictitious version of you? I've been in that relationship, it sucks when the other person finally decides to change for themselves and you realize you have no idea who they are and that it really isn't someone you liked to begin with.

Who has time to make so many rules to who they can and can't be. Just be one human. Yourself. And let it be what it will be. The truth. And if that means someone may not like you it means they wouldn't have liked you even if you were fake, because eventually we are all just in our rocking chairs yelling at the kids to get off our lawn.

Don't even get me started about the stigma of going to the bathroom on a first date… (everyone poops)

But speaking of that first date, what about just the first text? People do everything they can to avoid interaction these days that is beyond an emoji. Hiding behind the guise of "If we knew each other, it would be different". Ironically(for multitudes of reasons including how do you get to know someone if they don't let you get to know them), when you disconnect from them because you know, personally, you dislike that approach, all of a sudden they try to reach out to you in every form of contact available(all social media), just to tell you what a mistake you made, and how they are different when you get to know them.

Well STOP that. Be YOU before I get to know you. And perhaps I won't feel the constant need to move away from the small talk and 2 – 3 day waits for 1 line sentences about the weather. I need more than banter. I need more than knowing you like hiking or sarcasm. I need the in between. That is what makes you and that is what invigorates me to want to share my time, my life, and maybe, if we get there over time, my love with you.