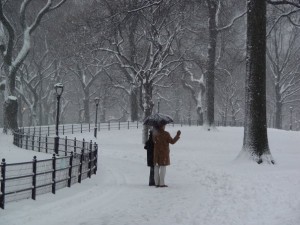 Holidays, oh holidays. I always wish I had someone to bring home to Mom and Dad to share with them. I always feel as though it would just be that much more fun to have to decide where and when we will visit the different families and how we will balance the need to be with each other and the need to see our families. Knowing at the end of the day, we will find that solace in each other, regardless of the craziness we are about to embark on through the long car rides during the day, which in turn is time we would spend with each other. The pre-planning which usually means we are committed to each other. Planning anything is advance is usually a no no for non relationships because it gives off the impression of wanting more than what is there. But I guess I just like to think in advance this season more than the rest of the year because I know that due to my broken up family and distance between us I will have to do it with myself so I am used to it. This makes me automatically start to do it with someone I am interested in.
I also look at it by a climate thing too. The cold weather, a fireplace, some cheese and wine. Just sitting in warm pajamas and holding each other. Not necessarily alone, maybe my sisters are there chatting with us, or perhaps we are just playing with my family dog. Maybe sneaking off to bed early or watching as others go to sleep around us. But the feeling I get when I am home with the heat on and the lights a certain brightness and the tree sparkling. That feeling is one I want to share.
When things get overwhelming like holidays usually do with family, we can disappear to sneak that cigarette on the porch freezing our asses off together, but that unity of thought where we BOTH need to get away and we want to do it together. That always seems nice to me.
Holidays automatically bring the idea of love to the forefront whether it be there or not, wanted or not. But I don't think it is about love, I think it is about human interaction. About the feelings that accompany us when we think of spending time with Family or friends, so obviously those we are interested in pop to the front of the list. This can play out for or against new relationships because of the pressures you may feel to HAVE to do any of the above, when I find through talking it out, it can be a much simpler equation that can always equal out to just meaning it is a holiday and working within its confines in needed and not something to even blink twice about, we all feel the stress.
I have always been one of those Italian boys who will introduce someone I meet to my family the day we meet if they are around. I don't look at "meeting the family" as a big event but part of who I am and part of me I want to share. Although I must say, living a couple thousand miles away definitely does not help with it NOT being a big to do. 

Oh and not to mention the FOOD. I want to share the food my family makes with EVERYONE I care about. Because it is probably some of the best food in the world and everyone should have chance to partake in it!
My Dads side is always a little more laid back on holidays, kind of the more classical cheese and wine feel and my Mom's side is usually the more classical Italian "pranz"(get together) where the entire family comes, sings, yells, screams, gets to decibels that will break your ear drums, but we are all screaming because it has been a long time since we all sat in the same room and were able to share what was on our mind or reminisce about our great grandfathers mothers fathers etc. I think the stories are amazing, the way that the family was back before my time. The way the interactions were. It was, to me, like something out of an old black and white movie. But the one quality I always valued about my Italian family was the love they shared with each other. It was always people being kind, the men being gentlemen, the ladies slaving over the food with the men eating it as they hit their hands. The kids jumping around or playing in the corner preparing a dance recital or song to sing or playing dress up.
Anyway, all of this is part of who I am, this is what I saw growing up, through home movies or experience, and I always think how nice it would be to have someone that was interested enough in me and I in them that we would want to try to be a part of such a long history of stuff impossible to catch up on. Just trying to be there and not panicking from the loud intense moments or panicking and knowing it is OK.
So for me holidays alone do not make me lonely, just hopeful that I will be able to find someone eventually so they can share that with me while every single family member is around.
I want to know their favorite Christmas book so I can have it waiting to read to them before we go to sleep in the unfamiliar pull out bed in the guest room. I want to bring them down to open presents with me on Christmas and have them smell the coffee and taste the pancakes my dad makes and watch me and my sister be completely goofy once she has had her coffee. I want them to see the similarities between me and my dad(he is basically what I will look like in 30 years), and the many morals and creativity I have gotten from my mother. I want them to also see the talents my family has as they sit around the piano and sing, or sit and talk and joke(I want them to see my Uncle make the most ridiculous jokes), or just understand the love we all have for each other when we sit and watch a movie. The things holidays sometimes force you to do with your Family. I mean watching me and my sister curse to rile up my Mom is fun as hell, and watching us both freak out from random triggers unknown to us and needing to go lay down or get away for a minute.
I suppose holidays force you to see if someone wants to see who YOU are. It forces your significant other to be there and participate in your life. Because in the end family is the most important thing to all of us and I think many of us want to see how they interact with our families in the most extreme situations such as holidays force upon you. Not as a test but just as a way to get to know them and for them to get to know you better. Because honestly meeting them on a random Friday works too, holidays just give it a different atmosphere. There is no hiding who you have been in front of your family.
There is something strong that goes along with being part of the Italian Catholic family. Guilt and Family, oh and food. So while I may not be the definition of this, I like to at least share the parts I love the most about it, and have that hand to hold when I myself start to freak out from the pressures the holidays can bring.
Holidays, oh Holidays… Sometimes I guess I just want to cap them off with that New Year's kiss, but not just a kiss, but something that you remember and look forward to at midnight. Not because it is different than the other kisses but because it is something deemed special by whatever book we have all been following. And that is one chapter I don't mind adhering too. Even if it means a little planning is involved to get both our lives in the same place at that one tiny moment in time, I want to have that moment and I want to shuffle around some plans to make it happen.
Why? Because life is moments. And why deny ourselves moments that could be spectacular. And why not try them out even if they fail. Nothing to lose in the end really. We will be better off either way. Either way we find answers.
I guess touching on my last post a little, I know one thing, the chase is great, but eventually it is nice to know you are chasing something that you can give yourself to in a way you don't just give a friend. And in return they will give it back. I myself realize I can only play for so long before I start to forget who I am because I am playing not being. I love to live in that moment but I need to live in it as me because otherwise I will second guess everything, and while that isn't bad to work with someone else, I find it is healthy to be able to re-assess your points of view with people as long as they are willing to do it as well. So when the other is playing around or just being a separated version of themselves you are not actually re-assessing for reasons beyond a simple seconds worth of thought from the other person. I guess holidays have a tendency to make you think about a relationship like you do with your family and if you are willing to make the extra effort to do a simple act of opening the door for them or just as much, invest your time. A sort of unconditional love so to say. But more-so just the comfort of the things that don't stress you as well, like your old room you left after college or the familiar star on the tree.
Holidays boldly try to make those beginning times happen quicker than you may feel comfortable with. So in that sense Holidays are a pain in the ass, but in the same sense, what's the difference if Holidays help it along or not. I definitely see both sides here, and don't have the answer as to yay or nay to either. It is finding someone who is open to a little bit of exploration whenever life decided to bring them together with you that is usually the crux. One person cannot make another change or be something other than what they want, I just wish more people could embrace feelings and regardless of past STUFF can live with it and let themselves open up to figuring out yay or nay without too much pulling of the others hair in-between. I know I can give a whole lot of myself to someone, but I have the reverse wall of others sometimes, mine becomes much more solid and impenetrable the longer I feel like their wall is stopping them from just enjoying those moments where they break character, the moments where the smiles are real, the feelings are overwhelming and indescribable, but instead of sucking back the tears of a moment like we do to save face, we just enjoy the release it brings and ride the wave of whatever the fuck it could mean, good or bad, past, present, or future thoughts.
And now that I have rambled my head off, I leave you with the same disclaimer as usual:
So those are my thoughts. Obviously I have a million more and I wonder if I express everything properly the first time, but that is OK I think, because there is time to re-address things and to talk about it, instead of it being chiseled into stone on, THIS IS HOW IT IS. Consider this my journal entry to myself with intent of someone reading it.